Embrace a Spectrum of Possibilities: From Hair Removal to Tattoo Erasure
Unlock the Power of Laser Therapy with Our Multifaceted Spectrum Laser
Discover the transformative possibilities of our versatile Spectrum Laser. Designed with the latest laser technology, it's a powerhouse tool that addresses a range of skincare concerns. Our Spectrum Laser offers an array of treatments — including Hair Removal, Vascular Reduction, Intense Pulsed Light (IPL) Therapy, Skin Resurfacing, and Tattoo Removal — all in one innovative device.
With the 810-Diode module, bid farewell to unwanted hair. This efficient, effective Hair Removal treatment targets hair follicles at the root, reducing growth and leaving your skin smooth and hair-free.
The Long Pulsed Yag feature focuses on Vascular Reduction. If you're bothered by visible veins and broken capillaries, this is the solution you've been looking for. This treatment gently minimizes the appearance of these concerns, restoring the flawless look of your skin.
Light the way to radiant skin with Intense Pulsed Light (IPL) Therapy. This treatment uses broad-spectrum light to address a range of skin concerns, including discoloration, rosacea, and sun damage, promoting an even-toned, glowing complexion.
Experience the renewing power of the Erbium Yag module for Skin Resurfacing. This innovative technology gently exfoliates the skin, revealing a younger, healthier layer beneath and stimulating collagen production for a rejuvenated, youthful appearance.
And for those who wish to say goodbye to old ink, the Q-Switched Yag/KTP module enables effective Tattoo Removal. This targeted approach breaks down the tattoo pigment, gradually fading the tattoo until it's no longer visible.
With our Spectrum Laser, you're not just getting a treatment — you're embracing a full spectrum of skincare solutions. Discover how these advanced laser therapies can unlock your skin's potential and boost your confidence.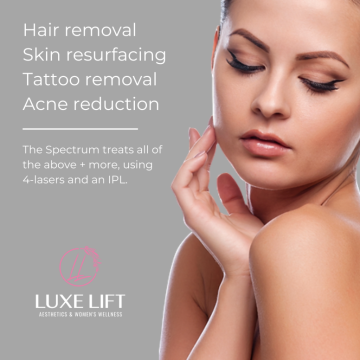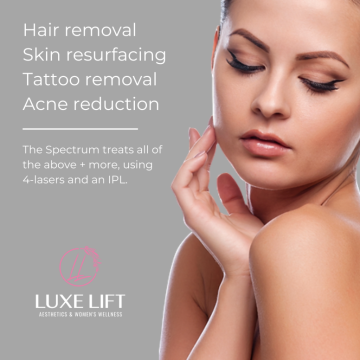 Ready to experience the transformative power of the Spectrum Laser?
 Book your consultation today and start your journey to radiant, confident skin.